Speaker Projects (subwoofer, axial monitor)
I got cheap an Amp for an Subwoofer. I had old chassis – so there we go…
Planned and calculated 2×10″ Subwoofer. Bandpass. Working great ;-).
Next Thing
I was curious about axial monitors to control the mids in a mix. So I build 3 pair to check what i'am missing. I made 2 pairs with 4″ and 1 pair 5″ speaker. One as a mid band speaker(4″) and two (4″+5″) as fullrange speaker. Closed Construction with plywood. So I went to the woodshop an got the plywood cutted to my wishes. Then easy glued them together, sanded them off, routed the edges, sanded again. Applied oil/hardwax in 3 layers.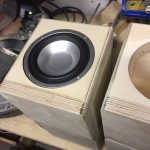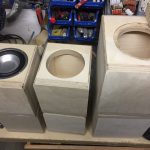 fitting of speakers as finishing woodwork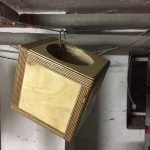 drying after applied oil/wax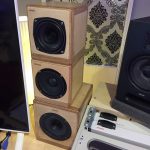 ready for work – FR10 (Visaton), the SPM116 (Monacor) and the BG13P(Visaton) (from top)
They all have a different ways to "play" music. What gives me the most is suprisingly the BG116. Even if it dont has (full) hights – the so important midrange stands out. They are working all with an old Technics amp and a Hama speaker switch – which can give in any of the speaker manually (4 to 1 matrix). Every speaker has a different "character". Nice Crosscheck possible, even mixture of 2 pairs works great.
FR10 – fullrange (effectively ~80-20000hz) – very direct, obviously no low end
SPM116 – midrange – (~75-18000) – precize, nice sound, missing highrange, no low end
BG13P – fullrange ( ~80-20000hz), very direct, little unbalanced (much heights), limited bass/low end
I have reduced my stack to only use the SPM116. I decided to sell the others …