guitar projects
Guitarcorner …
I have done now a lot of customized builds.Very usefull to understand the guitar physically and electrically very good …
Only a hand full are still perfectly original  – a lot of my next to be 20 axes are modified more or less. From only changing the headstock, optimizing or changing pickups to modified diy kit builds …
Some of the projects here in more detail:
2019 Fender Squier Affinity Strat HSS IL OWT
– brand new – these are incredible guitars for the price (~200€)
– pickups changed with new pickguard (white pearl) to EMG SA/SA/89 with push pull (routing needed for push pull pot)
– applied shielding (copper tape) to pickup holes and backside of pickguard (not realy needed  for the EMGs but why not …)
– tremolo bar spring not mountable – hole has no limit – fixed; silenced the springs with foam
– battery placed between the tremolo springs / no battery compartment needed (would have bad optics – because there are only black ones)
– oil for fretboard – look at the picture – has it never seen oil before (half fresh oil applied – half not)?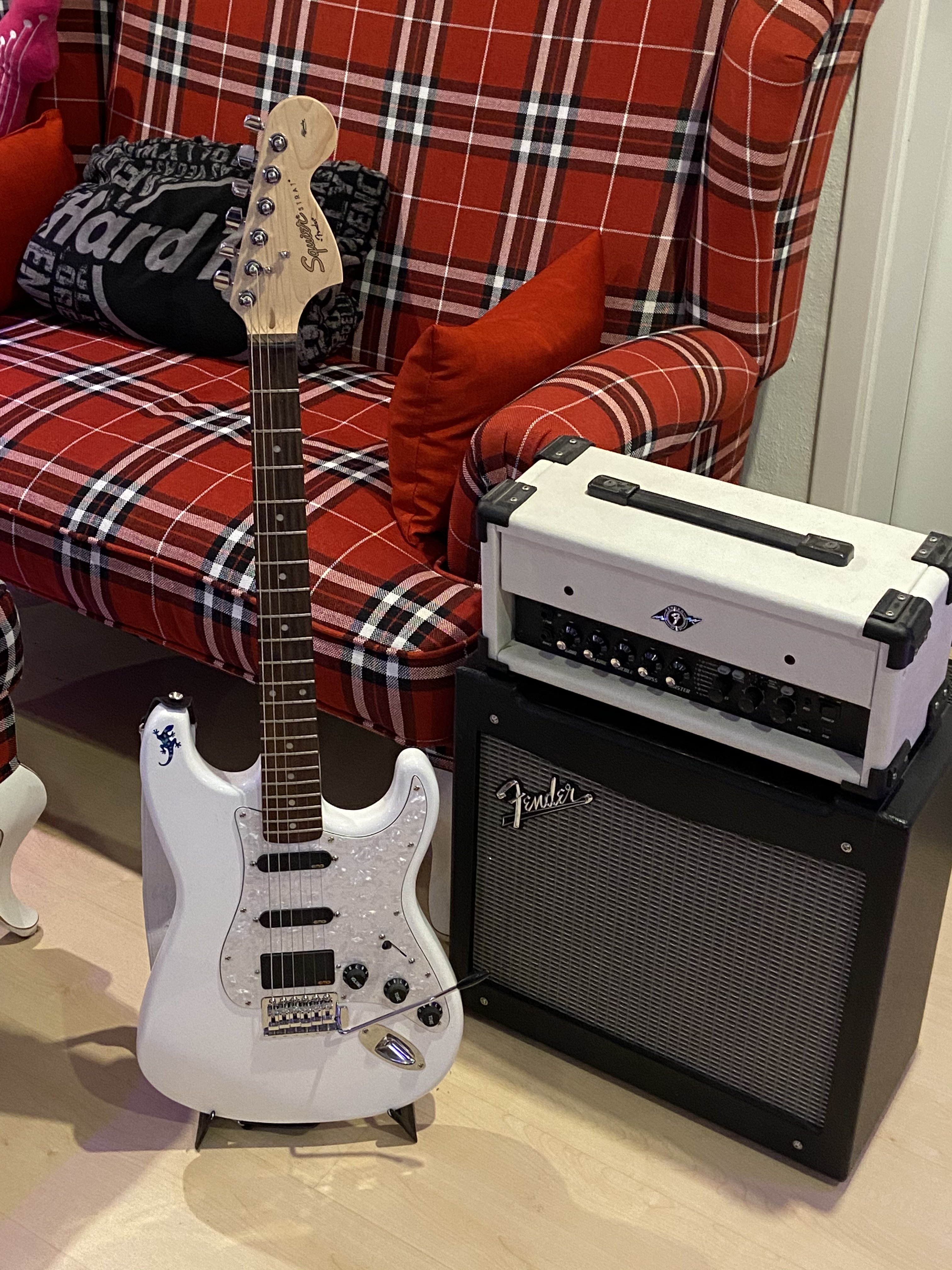 2018 Fender Mustang (I v.2 + II v.2) head mod
– separation in head (white leather) and box (8″,12″)
– constructed and build the head box (osb)
– closed the cabine of the box (veneer plywood)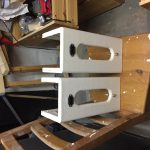 Pictures of the finihed thing on nearly each big guitar picture …
2019 guitar stands diy
(Strat and LP Style) – designed by myself
Except for the mounts (Millenium GW2510) I used left overs from other projects – so each one has cost me 5 € 😀
Another stand you can see at the top – the 10+ multistand … complete plywood custom build featuring flexible dividers.
2019 guitar kit (Telecaster Thinline)
Amazon Festnight DIY kit TL Style with f hole, mahogany body and top, alder neck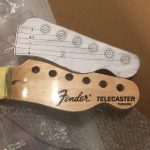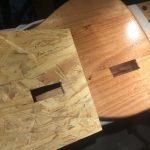 head shape (original shape printed from plan 1:1) cutted roghly then sanded with belt sander to get very good results, applied waterslide decal and a lot of finish (so its smooth and the waterslide dont look like a sticker …); routed the box for battery compartment (with self made template)
finish (way more than 10 layers) … sanding and polish after drying (6 weeks); polishing the body (20cm buff);
I changed pickups to EMG – so nearly complete new electrics, custom pickguard. The original Fender Thinline has other routings for the pots (diagonally, not straight), this one has routings like a regular Telecaster. So I bought a Thinline pickguard and modified it to fit. This way it's a very unique Telecaster. The raw material quality of the kit was partlially not great (no real wonder at 120€ for the kit) – especially the frets were a pain in the a** to correct … I dont got the string action very low – but its ok now. Another point is the awful included bridge. I doesn't like this 3 double saddle ashtray bridge with strings mounted in bridge. Additionally the included bridge created not enough pressure on the strings to sound clean. So I ordered an optimized bridge with 6 single saddles and changed the guitar to string through.

ready 🙂 and lovely – eye candy – and sounds great
2019 Harley Benton single cut Kit
got it for bithday, very good quality of the kit – espeacially for the price (99€)
sanding the base coat back down;  applyed stain / color ; front red (5 layers) , black back (3x), after drying removed some of the leftovers of the base 😉 -> again 5 times; placed the gibson sticker, then clear finish, polish
changed the pickups/cabling to EMGs (the included Humbuckers went into the leftover travelcaster project), all Plastic parts to black,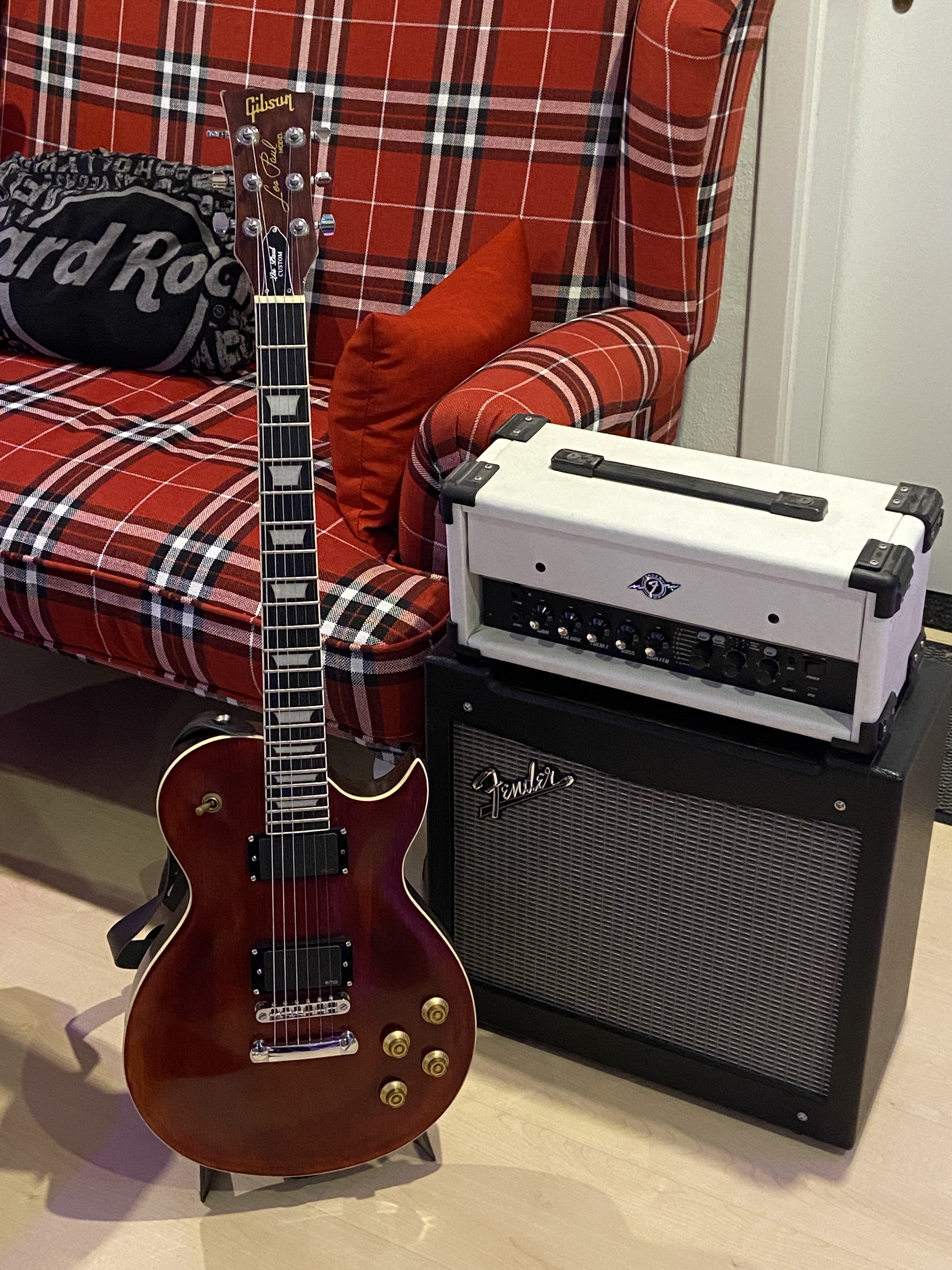 2018 travel guitar project
I wanted alsway a guitar thats very small. So I got an Fender Squier Affinity. I got an Black one –  ugly and scratched 2001 with awfull stickers on them, but because of that for only ~70€ on ebay :-D. And because I planed to remove the paint anyway its a win-win …
– body cutting, routing, sanding, polish
– head changed Squier to Fender waterslide decal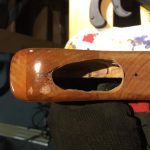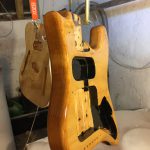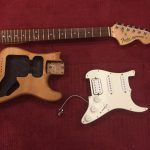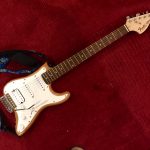 … fully assembled, polished and  … finished – tada
but – changed again, because the headstock is to big and heavy this way. So I used another neck. As you see its a little smaller and maple fretboard too ;-). A little tricky to find the right decals for that – so I decided to go with an Custom Shop V logo that is supposed to be on the back ;-). And I tried first time locking tuners.
(vs 2014 Fender Plus Top Strat)
2020  HSH Strat (Travelcaster leftover)
Used the neck for another build. I was curious how humbucker will work in a strat. So I build a HSH with a custom – very light – (China) maple body. Stained, applied wax – no other finish (as light as possible …); 2 point bridge. Custom pickguard – modified SSS. Works and sounds nice 😀